Payback
'How much to cross?' The Devil rubbed his bald head. He missed his golden locks.
'Want to steer? I could use a break.' The weary ferryman readjusted his tarnished crown.
The Devil laughed. 'I lost my hair, not my sense.'
---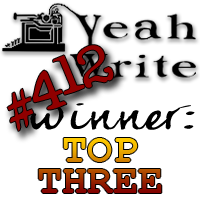 This micro was written for YeahWrite #412 and is based on the story of The Devil with the Three Golden Hairs. Click the badge to read other entries. Don't forget to vote.